I loved how this pie turned out and the Gluten free pie crust was a HIT! It was light and tasty so that meant no heavy feeling or bloating that comes after eating some desserts!
9″ Gluten free pie (you can buy it frozen or make your own)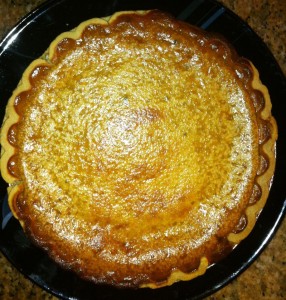 1 can of organic pumpkin
1 can organic condensed milk
2 organic eggs
1/4 teaspoon each of fall spices: cinnamon, nutmeg, ground cloves, cardomin
1/2 teaspoon sea salt
1 tsp of organic vanilla extract.
1/4 cup of raw organic honey (instead of 1/3 cup of sugar)
mix the ingredients together, quickly pour into pie and place in oven.
Pre-heat and bake at 425 for 15 minutes then reduce to 350 degrees for 45 minutes or until an inserted knife in the center comes out clean.
cool for 2 hours and make sure to refrigerate afterwards.