Serves  4
(2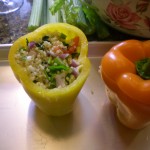 peppers each)
Cook 2 cups of Quinoa
Diced Celery
Diced peppers
Diced tomatoes
Diced cilantro
Diced red onions
Beautiful bright colored peppers of your choice
(I love the yellow and orange ones)
Cook quinoa first. When done cooking fluff and mix in canola oil, sea salt, garlic, black pepper, a dash of Braggs apple cider vinegar  and diced veggies
Cut the tops of the peppers off and stuff them  with the quinoa salad, put the pepper lids back on, place in a baking dish and cover.
Bake at 350degrees for 15 minutes.
*for softer peppers leave in the oven longer.
*they're yummy raw too